Meet Dr. Jason Ellis | Sherwood Park Chiropractor
"To me, chiropractic care is the foundation for a healthy lifestyle. Helping people regain the quality in their life is my passion, and helping serve my community is my priority."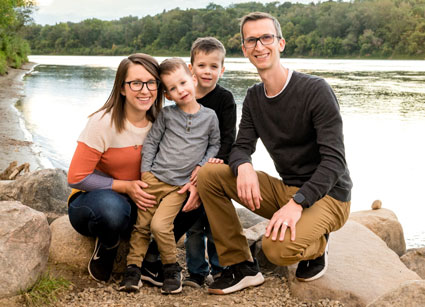 Education
Dr. Jason Ellis grew up in Sherwood Park and has called Sherwood Park home for most of his life. He went to the University of Alberta and graduated with a Bachelor of Science in Kinesiology in 2009. He then received his Doctor of Chiropractic degree from Palmer College of Chiropractic in Davenport, Iowa earning Academic Excellence and finishing his studies as Valedictorian of his graduating class.
Post-Graduate Education
Dr. Ellis currently holds a Diplomate through the International Academy of Neuromusculoskeletal Medicine (DIANM), a post-graduate certification in the Webster chiropractic technique, and a certificate in Neuromusculoskeletal Impairment Ratings through the AMA. Additionally, Dr. Jay is near completion of his residency in chiropractic orthopedics through the College of Chiropractic Orthopedic Specialists of Canada, placing him as one of the few chiropractic orthopedic specialists in Alberta. Dr. Ellis is also currently involved with the Alberta Bone and Joint Health Institute, helping to improve patient care and patient health in Alberta.
His mission is to be able to help patients by finding a concrete answer to all patients' neuromusculoskeletal problems and concerns. Through thorough history and examinations, Dr. Jay is able to find out the cause for injury or dysfunction and direct the treatments accordingly to get the best outcomes. He loves solving puzzles, especially those that are pain-related, and loves helping others feel and function better.
Extensive Background in Sports and Training
With his undergrad degree in Kinesiology and extensive background in sports and training, Dr. Jay loves taking care of athletes of all ages, whether they are weekend warriors, elite athletes, or simply youth just getting into sports.
Pregnancy, Pediatric and Family Healthcare
Dr. Jay is passionate about family health and wellness and has continuously expanded his knowledge and training in pregnancy and pediatric care. Additionally, he received his post-graduate certification in the Webster Technique for pregnancy care in 2013 and has since helped numerous pregnant women through their pregnancies. With his training and education, he is able to help manage pregnancy-related pains by ensuring the structure and function of the spine and pelvis is at its strongest point during the growth and development of the baby.
Hobbies
Dr. Jay is an avid runner, loves camping, hiking and being outdoors, and spending time with his wife and two boys (and his two pups Doug and Charlie). Although he grew up playing soccer, volleyball, basketball and curling, Dr. Jay now lives vicariously through his kids, watching and coaching his boys in their sports and helping them become active role models for the community.
Would you like to make an appointment with Dr. Jay? Call Brisbin Family Chiropractic at (780) 449-6636.
---
Dr. Jason Ellis | Chiropractor Sherwood Park | (780) 449-6636