Meet the Brisbin Family Chiropractic Team
Call us today to tour our practice and meet the team in person!
Melanie Walls | Office Manager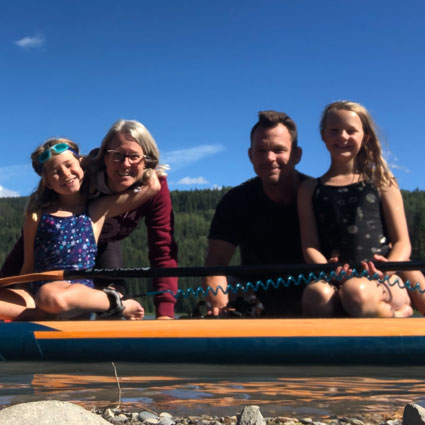 Melanie and her husband, Marty, (along with their 2 fur babies at the time) moved to Sherwood Park from the West Island in Montreal in December of 2004.
After travelling the world for a year from 1997-1998, Melanie had become a regular yoga practitioner and was trained as a Natural Health Consultant specializing in multiple modalities of energy work. After moving to Alberta, she decided to take her Yoga Teacher Training Certification at Yoga for Today and began teaching upwards of 10 classes per week.
In August 2005, Melanie became a patient of Dr. Dave's. By January 2006, she was employed at Brisbin Family Chiropractic, where she balanced teaching yoga with her job as a Chiropractic Assistant. Shortly after, Melanie started managing this incredible office!
"My life couldn't be more congruent! I work in such a positive, healing environment and I love coming to work each day! Our team of CA's and Doctors are top notch. We are so lucky!"
In 2011, Melanie and Marty had their first baby at home (Emma) and in 2014, they had their second baby also at home, in water (Madeleine)! Being regularly adjusted during pregnancy really helped with both births!
Both girls were adjusted within hours of being born and they continue to enjoy the benefits of Chiropractic Care, and ask for it regularly!
As a family, they enjoy spending time outdoors, taking their dogs for walks and spending time with friends.
"When anyone we know is sick, just under the weather, sore or even grouchy, both of our kids suggest going to 'Mama's work' for an adjustment!"
Melanie is very grateful for the awesome team she is blessed to work with at Brisbin Family Chiropractic. She knows you can feel the love as soon as you walk through the doors. It's the best work environment she's ever been in, and couldn't ask for more – amazing patients AND incredible staff!
---
Nicole Quilichini | Creative Lead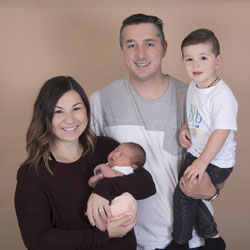 Nicky has been part of the Brisbin Family Chiropractic team since 2014. Everyone of the staff have become a huge part of her family, and coming into work is such a joy. "I honestly look forward to coming into work every day because I know I will be greeted with smiles and laughter."
Since becoming part of the team, she has become a huge advocate of chiropractic care and loves telling all of her family and friends the benefits of regular adjustments. "It is easy to take for granted all of the everyday miracles we see happen with patients who come to our office, but we see incredible things happen when people walk through our doors! I am proud to recommend our doctors to anyone who asks about chiropractic care."
Nicky graduated from Grant MacEwan in 2013 with her diploma in Holistic Health. In her training Nicky became skilled in both acupressure and reiki and loves the satisfaction of making people feel and live better. Her knowledge acquired in her years of schooling have helped to compliment the further learning that has come with working at Brisbin Family Chiropractic. The understanding of wellness and complete body healing is not lost in this office and she loves the integration of a holistic mindset that all the staff and doctors take to chiropractic care.
When Nicky is not busy working, she loves being a full time mom of her one year old son Kallum. She also enjoys playing soccer and keeps active by hula hooping, running and practicing yoga. Her and her husband spend their free time visiting with family, cooking delicious meals, and relaxing out at the lake.
---
Leeann Mahé | Chiropractic Assistant & Administrative Assistant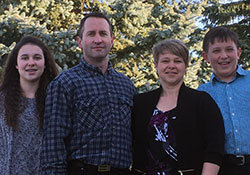 Leeann joined the team at Brisbin Family Chiropractic in October 2017 and has been impressed with the wellness-based approach the clinic takes.
Leeann has a Bachelor of Science in Food and Nutritional Sciences from the University of Alberta, and recently acquired a Medical Office Assistant Certificate from St. Lawrence College. She is an avid volunteer at her kids' school, with the Strathcona Food Bank Association and at the Edmonton Humane Society. She enjoys spending time with family, camping, reading, and skiing.
"I'm learning more and more each day about the benefits of chiropractic treatment. The team at Brisbin Family Chiropractic genuinely cares about each and every patient. I look forward to meeting all of our patients and helping with their care."
---
Sonya Hassan | Chiropractic Assistant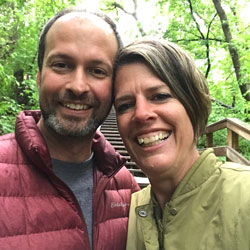 Sonya began her chiropractic care at Brisbin after a friend recommended Dr. Dave. Her original issue was cleared up, and then with continued care she was so happy to discover many other benefits! As an avid runner, she was thrilled to get personal best times in many distances, and faster recovery times as well.
She is excited to see patients come in and experience better health, and have a smile on their face. "Working as part of the Brisbin team is something that is very fulfilling to me, because I know people's lives are being changed for the better. I love getting to know so many people as well!"
Sonya lives with her husband, Greg, and their four kids in Sherwood Park. She is currently homeschooling the two youngest, the older 2 having already graduated. She also volunteers for Athletics Alberta as a track official in long jump and triple jump. In her free time she does laundry, walks the dog, drinks a lot of lattes and sits in the sun.
---
Irene Emmanuel-Oparah | Chiropractic Assistant & Social Media Liason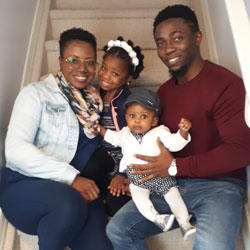 As someone who had always embraced a healthy lifestyle and strongly believes that the human body is designed to heal itself when treated right, Irene was extremely curious and excited at the opportunity to learn more about chiropractic care. She began her care in the summer of 2019 when she started working at Brisbin Family Chiropractic and has been very happy with the results.
Her major attraction to the clinic was the warm, positive energy of the staff and she was delighted at the opportunity to join the team!
"I truly love being a part of the Brisbin team. I genuinely look forward to coming to work! Everyone is so pleasant, happy and very caring. The positive energy in the clinic is very contagious, you can't come in to the clinic and not feel happy!"

Irene has a Master of Science in Corporate Brand Management from Brunel University, West London. She loves experiencing different cultures and learning new skills – "I love surprising myself!" She enjoys going to the gym with her husband, Emmanuel, and spending time with her girls, Reena and Rania, who she says bring out her playful side.
---
Kristin Johnson | Assistant Office Manager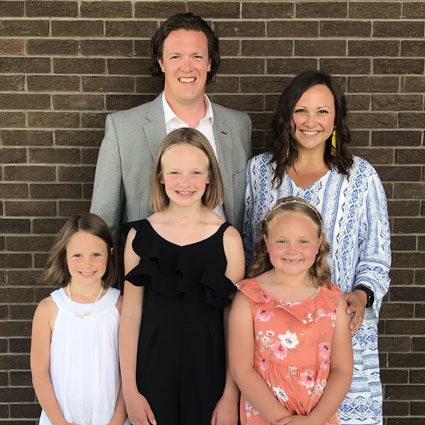 Kristin joined the Brisbin Family Chiropractic team in January 2020. After over a decade in the nursing profession, Kristin views BFC as the perfect place to call "home", and loves empowering others in their wellness journey and spreading a little joy wherever she goes. She feels so privileged to be a part of the BFC team, and seeing the life-changing impact of chiropractic care on a daily basis. Once you enter our doors, you're a part of Kristin's family.
When she's not working, Kristin (and her husband, Sandy) can often be found playing board games with their friends, or going for walks with their daughters (Kinley, Elsa-Evangeline, and Emmelyn) and Goldendoodles (Georgie and Benji).
Kristin's favorite movie of all time is "The Sound of Music" and she would say that travelling, reading, and coffee are just a few of her favorite things!
---
Our Team | Brisbin Family Chiropractic | (780) 449-6636