New Patient Central
Remember the Essentials
To your first visit, please be sure to bring your filled-out New Patient Forms (see the box at right), and wear comfortable, loose-fitting clothing.
Your First Visit
When you arrive for your first visit to Brisbin Family Chiropractic, you will be given a tour of our clinic to familiarize yourself with the office.
We strive to create a relaxed and friendly atmosphere to ensure a comfortable, positive experience during your time with us.
Your first visit may take anywhere from 45 minutes to 1 hour, as it will involve a thorough consultation and a chiropractic examination.
Note: Most of our adult patients are sent for X-rays as part of our thorough examination. In order for the chiropractor & radiologist to review your X-rays properly, your first adjustment will likely be scheduled either later that day, or the following day.
State-of-the-Art Chiropractic Diagnostics
Experience has shown us that the more specific we can be at locating the cause of your problem, the faster and more effective our results will be.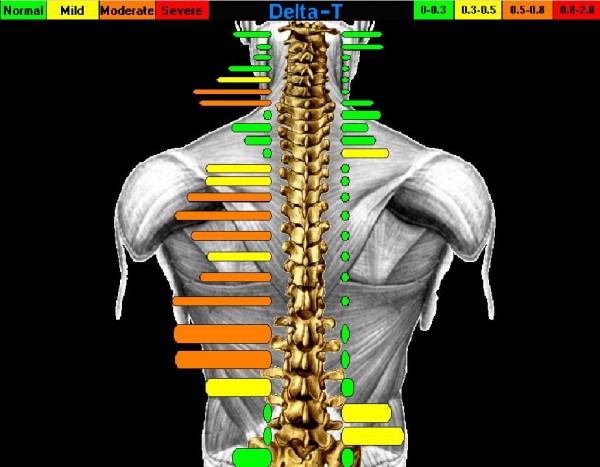 We use highly specialized diagnostic equipment during your examination, including:
Digital paraspinal infrared thermography using the Ty-Tron C-5000
Computerized posture analysis using Posture Screen software
Special weight bearing x-rays (when necessary)
Functional range of motion assessment
Bilateral weight distribution testing
Specific Orthopedic and Neurological testing
Follow-up Visits
During your follow-up visit to Brisbin Family Chiropractic, you and your chiropractor will discuss your results and your doctor will ensure you understand what the problem is and how it is affecting you. They will also teach you a little about how to maintain good spinal health. We'll talk about any posture or health problems as well, and make sure your questions are answered. Then it's time for your first adjustment. Typically, follow-up visits take anywhere from 10 to 30 minutes.
Want to know more or feel like you're ready to get started? Give us a call at (780) 449-6636!
---
New Patient Center | (780) 449-6636